Russell Clepper is a performing singer songwriter.
He currently performs with the Porch Brothers, a Texas/California Americana trio, and with the Muse & eye, a country/folk duo. More information on these groups and other Russell Clepper band projects and collaborations follows. For a discography, scroll all the way to the bottom.
The Porch Brothers
The Porch Brothers are Russell, singer/songwriter Rob Harris and bassist Ron Rossel. With the approach of summer 2022, they are heading into their second season of public performance. Russell contributes his original songs and covers of various Texas country and folk artists while Rob brings originals and covers of California singer/songwriters to create a unique blend of Americana music. Ron delivers rythyms drawn from his deep experience with many branches of music, including jazz, African, rock and folk. Sarah Dial Primrose, the Porch Sister, brightens Porch Brothers performances with a rich third harmony at times.
The Muse & eye
The Muse & eye began performing more than 10 years ago as both a local and touring duo. The bulk of their repertoire is Russell's original songs with a healthy smattering of covers by artists such as Townes Van Zandt and John Prine.
Besides local and regional appearances, they have played at venues throughout Colorado, New Mexico, Texas, New York, Vermont, Georgia and Quebec. Though Russell plays most often these days with the Porch Brothers, the Muse & eye still occasionally performs on Whidbey Island where they live.
Rusty Fender and the Melody Wranglers
Alt-country on Whidbey Island! This band saw Russell joining with lap steel player (and legendary glass artist) Ro Purser, bassist Ron Rossel and drummer Alan Brown. They brought some old country classics and not-so-classics, some tunes by Russell's favorite Texas singer/songwriters and of course, his original songs to the mix. The motley bunch won raves from country dancers and Russell Clepper fans alike. Check out their Facebook page for archived pictures and video snippets.
The Muse & eye
has lined up a bunch of shows in Texas in February and March to celebrate the birth of Russell's grandson, Jack Oscar, to his daughter
Emilie Clepper
. Click
HERE
for our tour schedule.
We will be joined at most shows by guest musicians and friends, including
Jimmy George
who will be joining Russell for a Clepper George reunion show! PLUS...Emilie will sit in with us at the Hill's Cafe in Austin for a special Clepper Family show.
New songs! Please check out the Muse & eye's Reverbnation page.
We just came back from a short Texas tour with an unexpected addition to our luggage: about 50 copies of an impromptu CD we made at Mike Phelan's house in San Antonio. Titled "Never Go Anywhere," it was completed in three different sessions as we stopped there while crisscrossing the state. Mike did a great job of adding bass, percussion, guitar and sometimes other tracks in-between our visits.
2013 Newsletter Up on Muse & eye Reverbnation Blog
If you are not on our email list, you can find out about this year's highlights, next year's projects and other news in the blog section of the Muse & eye's Reverbnation site.
http://www.reverbnation.com/themuseandeye
Muse & eye completes NE/Quebec Tour
Sarah and I swept through New Hampshire, Massachusetts, New York, Vermont and Quebec this past October. The shows in Quebec were particulary memorable and it was a great pleasure to spend time with our respective families both there and in New York.
For more information, see www.reverbnation.com/themuseandeye.
Monday, September 10 2012
Hey...thanks for checking in.
UPDATES :
"Redwood", 1st CD by the Muse & eye was released last March.
The Muse & eye has been an official, gigging duo for more than a year now. That's me and Sarah Dial Primrose, my partner in life and music. We now have a website on Reverbnation. Click www.reverbnation.com/themuseandeye to find more information, including our show schedule, recordings and more.
Thanks!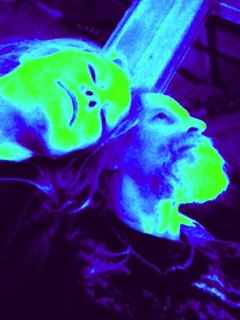 Russell Clepper is a singer/songwriter, born and bred in Texas, but who is now living in the Pacific Northwest on Whidbey Island near Seattle. He moved there to be with the love of his life, Sarah Dial Primrose, longtime Northwest resident, artist and businesswoman.
Russell has performed all over Texas and in many other states solo and with other musical artists. Most recently he collaborated with
Jimmy George
of Austin, Texas in the acclaimed
Clepper George
duo. Earlier, in San Antonio, he founded the
Trebelmakers
with
Mike Phelan
. His cousin
Mo Pair
has often contributed to both those projects.
Emilie Clepper
is Russell's singer/songwriter daughter, who has had much success and critical acclaim in her native Quebec City where Russell lived for 17 years.