Russell Clepper is a performing singer songwriter with the Muse & eye, a country/folk duo. His partner is vocalist Sarah Dial Primrose.
Download songs on the Muse & eye's Reverbnation page.
We have three songs that can be downloaded for 99 cents each from our CD "Redwood" in addition to four others that you can listen to from the web page for free. Thanks for stopping by!
Netherlands was one of the last songs I wrote while living in Austin before heading to the Northwest. Across the Miles tells a bit of the story of Sarah and me. Augustino Tells is song about a friend of mine from my oil patch days a long, long time ago.
If you'd like the entire CD, write to me at rsc@russellclepper.com.
While you're visiting our Reverb site, please take the time to check our video of "Molly's Mountain," an acapello ditty we came up with while touring around Texas last year.
2013 Newsletter Up on Muse & eye Reverbnation Blog
If you are not on our email list, you can find out about this year's highlights, next year's projects and other news in the blog section of the Muse & eye's Reverbnation site.
http://www.reverbnation.com/themuseandeye
Muse & eye completes NE/Quebec Tour
Sarah and I swept through New Hampshire, Massachusetts, New York, Vermont and Quebec this past October. The shows in Quebec were particulary memorable and it was a great pleasure to spend time with our respective families both there and in New York.
For more information, see www.reverbnation.com/themuseandeye.
Monday, September 10 2012
Hey...thanks for checking in.
UPDATES :
"Redwood", 1st CD by the Muse & eye was released last March.
The Muse & eye has been an official, gigging duo for more than a year now. That's me and Sarah Dial Primrose, my partner in life and music. We now have a website on Reverbnation. Click www.reverbnation.com/themuseandeye to find more information, including our show schedule, recordings and more.
Thanks!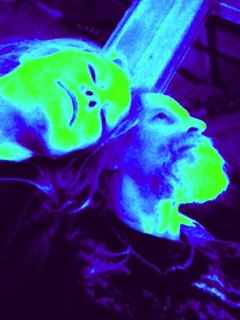 Russell Clepper is a singer/songwriter, born and bred in Texas, but who is now living in the Pacific Northwest on Whidbey Island near Seattle. He moved there to be with the love of his life,
Sarah Dial Primrose
, longtime Northwest resident, artist and businesswoman.
Russell has performed all over Texas and in many other states solo and with other musical artists. Most recently he collaborated with
Jimmy George
of Austin, Texas in the acclaimed
Clepper George
duo. Earlier, in San Antonio, he founded the
Trebelmakers
with
Mike Phelan
. His cousin
Mo Pair
has often contributed to both those projects.
Emilie Clepper
is Russell's singer/songwriter daughter, who has had much success and critical acclaim in her native Quebec City where Russell lived for 17 years.
For more information, visit his Myspace page and view his EPK at www.sonicbids.com/RussellClepper.